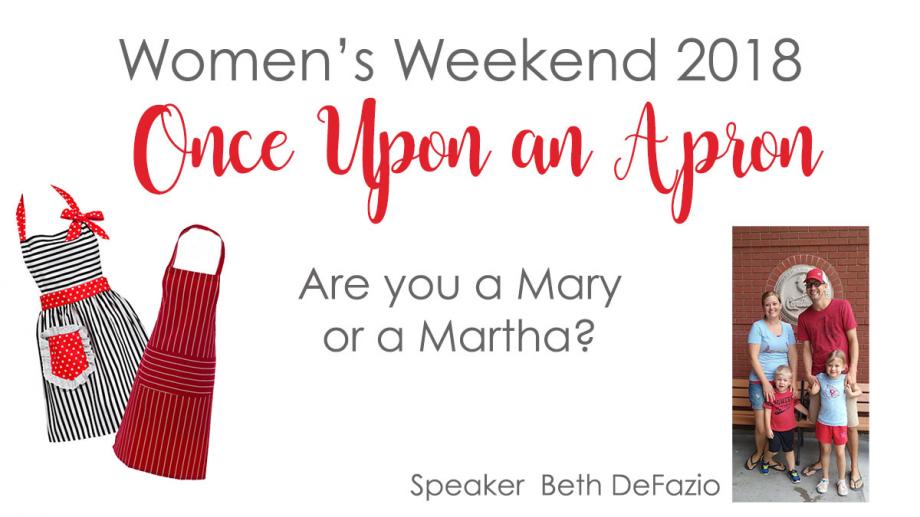 Mary and Martha are sisters that we find in the New Testament. They were friends of Jesus. They are known for the time Jesus came to visit and while Martha scrambled about busily to serve Christ, Mary sat calmly at His feet and listened to His teaching. Both ladies served God in very different ways, but they loved Him equally. Are you a Mary or a Martha - and how does that affect how we love and serve Christ in OUR lives?
TENTATIVE SCHEDULE
FRIDAY
4:00-6:00 Registration/Move into Rooms/Prayer Walk
6:00-7:00 Dinner
("Martha" - Grilled Chicken, Choice of Pasta, Grilled Veggies, Salad Bar, Dessert)
7:00-8:00 Reflection Class - Are you Mary or Martha?
8:00-8:15 Break
8:15-9:30 Main Session #1 (Martha)
9:30-11:00 Snacks & Hang Out (prayer room open)
11:00 Bedtime

SATURDAY
7:00-8:00 Prayer & Coffee Time
8:00-9:00 Breakfast
(Waffles, Mixed Fruits, Sausage, Yogurt, Cereal)
9:00-9:30 Mini Session
9:30-10:15 Break/Pack & Load
10:15-11:15 Mary & Martha Classes/Discussions
11:15-11:45 Break/Additional Discussion Time
11:45-12:30 Lunch
("Mary" - Baked Potato Bar, Salad, Dessert)
12:30-1:30 Craft Session
1:30-3:00 Main Session #2 (Mary)
3:00-3:30 Head Home
(3:30-5:00 Paintball)
WHAT TO BRING



- Bible, Pen & Paper
- Casual Clothes
- Twin Size Bedding
- Pillow
- Toiletries
- Towel & Washcloth
- Flashlight
ABOUT OUR WORKSHOPS
Our first workshop will be a time of reflection with questionaire style helps - Do you identify more with Mary or Martha? And then a time of discussion will follow.
Our second workshop time, we wil break into two groups - those who identify with Mary and those who identify with Martha. There will be 1-3 classes for each group. This will be a longer workshop time so that there can be plenty of discussion, fellowship, and prayer during the class.
ABOUT OUR CRAFT TIME
There is something to be said for object lessons. Our craft time will feature a hands on craft-object lesson for everyone. You will participate in the craft while we share a deep truth with you. In the end, you will take your craft home as a reminder of what you learned this weekend.
ABOUT THE SPEAKER - Beth DeFazio
Bio Coming Soon!