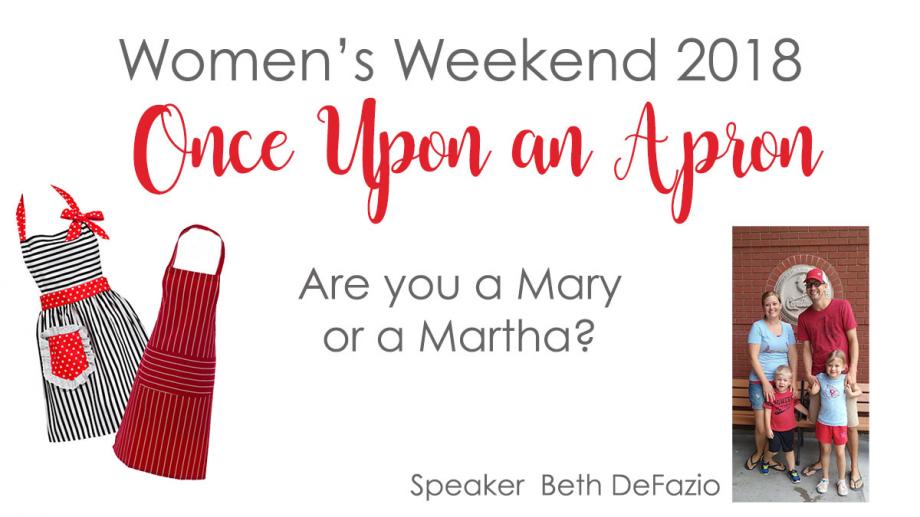 Mary and Martha were sisters that we find in the New Testament. They were friends of Jesus. They are known for the time Jesus came to visit and while Martha scrambled about busily to serve Christ, Mary sat calmly at His feet and listened to His teaching. Both ladies served God in very different ways, but they loved Him equally. Are you a Mary or a Martha - and how does that affect how we love and serve Christ in OUR lives?

Save the dates for next year's Women's Weekend and come find out why it's important to know your gifts and how to best use them for the Kingdom.
TENTATIVE SCHEDULE
FRIDAY
4:00-6:00 Registration/Move into cabins/Prayer Walk
6:00-7:00 Dinner
7:00-8:00 Class Time
8:00-8:15 Break
8:15-9:30 Main Session #1
9:30-11:00 Snacks & Hang Out
11:00 Bedtime

SATURDAY
7:00-8:00 Quiet/Prayer Time
8:00-9:00 Breakfast
9:00-9:45 Mini Session
9:45-10:00 Break/Find Class
10:00-10:45 Class Time
10:45-11:45 Break/Snack/Find Class
11:45-12:30 Class Time
12:30-1:30 Lunch
1:30-3:00 Main Session #2
3:00-3:30 Pack Up & Head Home
WHAT TO BRING



- Bible, Pen & Paper
- Casual Clothes
- Twin Size Bedding
- Pillow
- Toiletries
- Towel & Washcloth
- Flashlight

SWEET OR SALTY SNACK TO SHARE FOR FRIDAY NIGHT
ABOUT OUR WORKSHOPS
COMING SOON!
ABOUT THE SPEAKER - Beth DeFazio
Bio Coming Soon!