Junior High 1 (6th-8th Graders)
Date: June 24, 2018 - June 29, 2018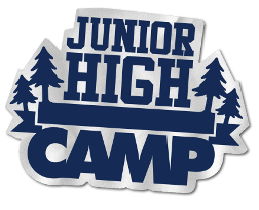 Junior Highers are usually ready to explore the world and set ablaze whatever they put their mind to. At the Junior High week of camp we want them to explore what a truly commited relationship with Jesus means and how to set their world on fire. They will experience worship, lessons from the Bible, small group discussion, personal time with God, and creative spiritual application. Along with all of that they get the fun camp experiences of the blob, the zipline, paddleboats, kayaks, the swimming pool, campfire, 9 square in the air, GaGa ball, canteen, group games, the shooting range, the archery range, and so much more! 6th-8th graders will have the time of their life while building a solid spiritual foundation that will forever affect their life.
Junior High 1 registration will be on Sunday from 3-5 P.M. Camp will end on Friday at 11 A.M.

The pool will be open for campers from 3:30-5:00 on Sunday after they register and get moved into their bunks.
Dean: Jeremy Keeler (Wentzville CC)
ABOUT JEREMY: Jeremy is the student minister at Wentzville Christian Church. He graduated from Johnson University, and has been in full-time ministry for 10 years. Jeremy met is wife Kristen at Wentzville Christian Church, and they both look forward to the time at High Hill each summer. When not working at the church or spending time with students Jeremy enjoys being out doors; hunting, fishing, camping, and hiking are just a few ways that he loves to experience God's amazing creation. High Hill Christian Camp is always a highlight of his summer, and he can't wait for Jr High 1 to begin! This will be Jeremy's fifth year of deaning Junior High camp.
[
back
]