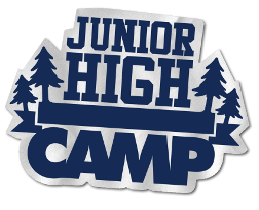 Junior High 2 (6th-8th Graders)
Date: July 22, 2018 - July 27, 2018
Junior Highers are usually ready to explore the world and set ablaze whatever they put their mind to. At the Junior High week of camp we want them to explore what a truly commited relationship with Jesus means and how to set their world on fire. They will experience worship, lessons from the Bible, small group discussion, personal time with God, and creative spiritual application. Along with all of that they get the fun camp experiences of the blob, the zipline, paddleboats, kayaks, the swimming pool, campfire, 9 square in the air, Ga Ga pits, canteen, group games, the shooting range, the archery range, and so much more! 6th-8th graders will have the time of their life while building a solid spiritual foundation that will forever effect their life.

Junior High 2 registration will be on Sunday from 3-5 P.M. Camp will end on Friday at 11 A.M.

The pool will be open for campers from 3:30-5:00 on Sunday after they register and get moved into their bunks.
Deans: Ben Harris (Greentree CC) & Steve Wolf (White Flag CC)
ABOUT BEN: Ben, or "Big Ben" as he is known, has been working at Greentree Christian Church in Rolla doing youth ministry since 2008. Ben is a graduate of St. Louis Christian College and has been coming to Jr. High camp at High HIll since 2005. He loves spending time with Jr. High and High School students and teaching them about God and how to have a deeper relationship with Him. He also loves to spend his time at camp launching people on the Blob! Ben says he has been blessed with an amazing wife. Ben and Shandi have been married since 2009. She is a campus minister with Christian Campus Fellowship at Missouri S&T in Rolla. They have two little girls, Darci (3 1/2) and Harli (1 1/2). Ben's favorite things to do are to spend time with his family and to hang out with his students. He is a huge STL Cardinals fan who loves to collect baseball memorabilia and autographs. This is Ben's sixth year of deaning/co-deaning camp.


[
back
]