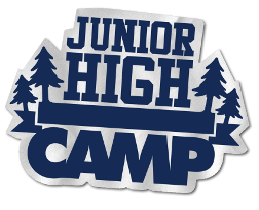 Junior High 2 (6th-8th Graders)
Date: July 23, 2017 - July 28, 2017
Junior Highers are usually ready to explore the world and set ablaze whatever they put their mind to. At the Junior High week of camp we want them to explore what a truly commited relationship with Jesus means and how to set their world on fire. They will experience worship, lessons from the Bible, small group discussion, personal time with God, and creative spiritual application. Along with all of that they get the fun camp experiences of the blob, the zipline, paddleboats, kayaks, the swimming pool, campfire, 9 square in the air, Ga Ga pits, canteen, group games, the shooting range, the archery range, and so much more! 6th-8th graders will have the time of their life while building a solid spiritual foundation that will forever effect their life.

Junior High 2 registration will be on Sunday from 3-5 P.M. Camp will end on Friday at 1 P.M.

The pool will be open for campers from 3:30-5:00 on Sunday after they register and get moved into their bunks.
[
back
]