Frequently Asked Questions
Every year, we come across a lot of the same questions.  Hopefully we can help you out by answering some of them. If you find you still have questions, please feel free to use the "contact us" form below, and we will get back to you as soon as possible.
How is COVID-19 affecting camp in 2021?
We are continuing to monitor the COVID-19 situation and will make changes as necessary. Until such a time as we feel it is safe to lift all restrictions, we will continue to operate using the policies and procedures we used for 2020.
Please note that because of the fluid nature of this situation, some or all of these policies may be changed, removed, or added to as circumstances require. We will be in a state of constant evaluation over all of these policies and adjust them as necessary. Additionally, we reserve the right to reschedule or cancel any sessions that are deemed to be unsafe due to this virus.
NOW/LEADING UP TO CAMP
Not Allowing Camp Teams to Attend – these teams are from Bible colleges around the US and will have been traveling for the summer. We feel it is best to not have that possible level of exposure to our campers.
Restricting Out of State Campers – As of right now, we are limiting registrations to Missouri residents only. We will be reevaluating this as we draw closer to camp.
Obeying Local Governments – If the county the camper resides in has not been deemed safe to "open up," that camper can't attend– camp WILL refund these cases.
Encouraging campers to "shelter in place" the week leading up to their session.
Full refunds will ONLY be issued if there is a positive Covid case in the camper's household within 14 days of the camper's session beginning.
AT CHECK-IN
Signed affidavit that camper has not had a fever or interaction with infected person in the last 7 days – this will be emailed to you ahead of time for you to bring with. There will also be an online link for you to sign digitally. Additionally, this form will be available at check in. Campers who do not complete this affidavit will not be allowed to check in.
Temperature check – These will be conducted as a camper gets to their dorm or cabin. We reserve the right to do random temperature checks through the camp session.
At this time, we anticipate allowing ONE parent/adult assist with moving into the dorms/cabins during check-in.
DURING CAMP
Once campers are on campus, they will not be permitted to leave and come back.
We will be implementing extra cleaning during sessions/between sessions.
Food Service will not be self-serve.
We are being intentional about the games we play to limit the risk of infection.
Our medical staff will have authority to send campers home who exhibit any signs of illness. In the case of a camper being sent home, a pro-rated refund will be offered.
What are you doing to help keep campers safe?
At home pre-screening before kids ever get to camp
Signed affidavits that campers were pre-screened
Staggered check-in times to limit number of non-campers on campus
Enhanced screening during check-in (everyone who comes on campus, not just campers)
Limiting access to cabins and other camp facilities during check-in to non-campers
No drop off of care packages for campers/discouraged mail
Utilizing Bunk1 as preferred method of communication
Enhanced cleaning of cabins and general spaces during a week of camp
More washing and sanitizing of hands when entering cabins and general spaces around camp
Campers will mainly interact with the other campers in their cabin and with one additional cabin ("family") for small group activities
For larger group activities (such as meals, rec time, swimming, etc.), the camp will be split into "corhorts" which will combine 2-3 family groups (approximately 35-60 campers) based on ACA guidelines. We will have combined cohorts in large spaces like dining hall and worship area; however, each cohort will maintain significant distance (10+ feet) between them.
What will happen if my camper (or someone in their cabin) gets sick?
Campers and staff will be educated on early communication if they start feeling sick. If a camper starts to feel ill, they will immediately report to the nurse/medic. Based on their symptoms, our medical professionals will determine if the camper needs to be isolated or not. Our goal will be to remove campers or staff with COVID-19 symptoms from camp as soon as possible, rather than to isolate them for long periods of time. We will not perform or take campers to testing due to turn-around time for results. Parents will be notified if there was a confirmed COVID-19 case at camp, and we will use local health departments or the CDC for contact tracing.
What about masks?
Glad you asked!  We've been following CDC, WHO, and ACA to find an answer for this, and the best thing we can say is that we won't discourage the use of masks, but we won't require it.  If you would feel best having your camper use a mask while at camp, please feel free to send one (or more) with them.  We will have "Tubies" in stock in our canteen this summer for campers as well. While these are NOT a non-medical mask alternative, and not to be used in place of an FDA approved mask, they may be an acceptable substitution for your camper.  If you'd like to pre-order a Tubie for your camper, we will give you information on how to do that with the email you'll receive leading up to camp.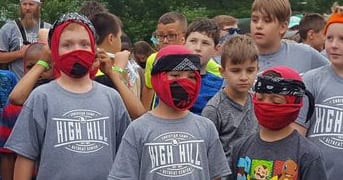 How does Check-In Work?
We will continue to have a staggered check in process. You will be emailed a specific time for check-in the Saturday before your Sunday check in. As you enter the grounds, you will be asked a few yes/no answers with regard to recent exposure and everyone in the vehicle will have their temperatures taken.  If anyone in the vehicle has a fever or cannot pass our screening questions, we will unfortunately have to turn your camper away for the session and a refund (less deposit) will be offered.
Once you're through our initial screening, you will be directed to a parking place, and then check-in will be similar to last year, but with social distancing.  We will be discouraging making tuition, canteen, or other payments on Sunday in order to reduce face-to-face time with our staff. Please make payments at least 48 hours in advance through our camper payment page.
We anticipate being able to allow ONE parent/adult into the cabin or dorm with your camper to help them set up their bed.  Once your camper gets settled into their room, we ask that you immediately proceed back to your vehicle.  We understand that this is not an ideal situation, and you would love to be able to spend time touring the camp, but the less exposure our facilities have, the better for all of our campers.  We appreciate your cooperation in this matter.
What should my camper bring/not bring to camp?
WHAT TO BRING
• Clothes & extra shoes (include clothes to play in, get dirty in, and swimwear)
• Water bottle
• Towels/Washcloths for showers and/or swimming
• Twin sized bedding or sleeping bag and a pillow
• Toiletries (soap, shampoo, toothbrush, etc.)
• Bible, pens, notebook/paper, etc.
• Any medication your child takes regularly (must be in original containers, properly labeled with dosage and intervals)
• Flashlight
• Sunscreen and bug spray
ADDITIONALLY: Campers are encouraged to bring their own life jacket if possible.
• Optional Items: cinch sack/backpack, alarm clock, extension cord/power strip, camera, goggles, fan, dirty clothes bag, stuffed animal
WHAT NOT TO BRING
The first thing we ask that your camper leave at home is their cell phone. We know this isn't easy, but it will enhance the camp experience for your child. We know all the reasons kids would want or need their cell phones, but we feel that they are a huge distraction while at camp. We cannot possibly police everyone's usage, so it is simpler to ask that everyone leave them at home. If you need to contact your child while at camp, you may call us, and we will relay the message and, if necessary, have them call you back on the camp phone. Please note that we will not enforce this guideline as a camp, it is a recommendation that we have set forth and leave it to your discretion, but it is STRONGLY encouraged.
Other things to leave at home include electronics of any kind (iPod, iPad, MP3 players, etc.), weapons, any food or drink items, and fireworks. Other things you may want to leave at home are items of value (like expensive clothes or shoes or irreplaceable items). Bringing any drugs, alcohol, or any tobacco product is forbidden and doing so will result in your child being sent home immediately.
Do you have a dress code?
Our dress code is fairly simple and straight forward—modesty will prevail in all matters. Girls must wear one piece swimsuits OR wear a dark t-shirt over a two piece. All sleeveless shirts must be at least three fingers wide at the shoulders. No bare midriffs or slouching shorts. Guys must wear a tank top under any sleeveless t-shirt with expanded arm holes. Shorts must be finger length. If you have specific questions about an item of clothing, feel free to contact us.
My camper has a dietary allergy - how do you handle that?
Although we would truly like to accommodate all dining needs, with the amount of campers we feed, it's not possible to fully exclude common items such as gluten or dairy from our menu. We try our best to keep high allergy items like peanuts out of our kitchen; unfortunately, there are some instances where manufacturers don't list all food ingredients on our packaging.  With this in mind, you are more than welcome to send alternative food with your camper if you wish. Guests with food allergies will have access to a refrigerator/freezer and microwave in the kitchen area. All food should be stored in a bag/container and labeled with your child's name and program (e.g. Katie Kamper, Camp 45-1). If your child has food allergies or other dietary restrictions, there will be a place to indicate those on the registration form.
If you would like to speak with us about any concerns you have, please email us at camp@highillcamp.org. If you would like to speak with the camp cook directly, he can be reached by email at nickforcamp@gmail.com.
Will guests be allowed at camp?
Our short answer is no.  We are continuing to minimize any outside guests this summer. As much as possible, we will keep deliveries and drop offs to the gatehouse rather than bringing additional people and vehicles into camp. Guests who HAVE to come into camp (parents picking up campers outside of normal check-out times, vendors, etc.) will need to do a medical screen before entering.
Additionally, if a camper has to leave camp for any reason, they will not be permitted to return to camp for that session. 
How do I contact my camper while they are at High Hill?
We have two fantastic ways for you to contact your camper!
1) Bunk1 (www.bunk1.com)
Our camp has a partnership with an online contact company called Bunk1. They are specifically geared toward communication with campers/parents while at camp. You have the option to set up an account, add your campers, and then purchase credits that allow you to send or receive "bunk notes" from your camper.  Bunk notes are delivered at every meal and are easy for your camper to immediately respond to.  Our campers have come to love bunk mail!
2) Traditional Mail
If you would like to send your camper a letter or a package while they are here, that's GREAT!  Please make sure to allow adequate time for mail to arrive (we suggest sending a week early) as late mail will not be returned.  Additionally, Fed-Ex and UPS make deliveries here daily, so many of our parents have begun to take advantage of a trackable Amazon Prime delivery.  We think that's genius.
Here's where to send mail:
High Hill Christian Camp
Camper's Name / Week of Camp
20 Camp Lane
High Hill, MO 63350