We offer scholarships to campers who have a need for assistance to attend camp.
click HERE for the application form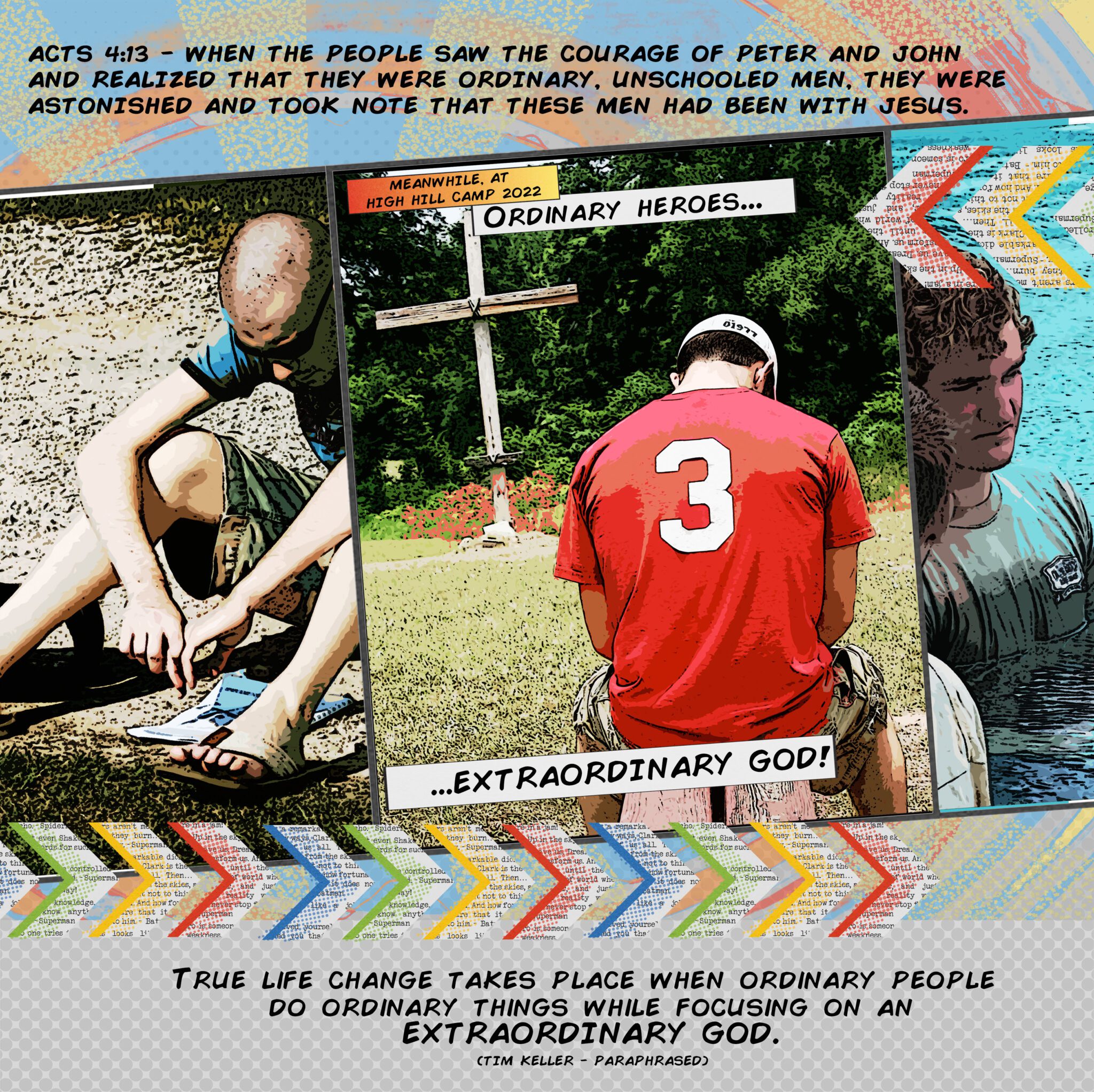 WELCOME TO SUMMER 2022
We are so excited that you are considering sending your camper to High Hill this summer.  Scroll down for our list of TRADITIONAL, WILDERNESS, AND SPECIALTY camps for all ages. If you would like a description of each session, please click HERE.
ALL SESSIONS ARE FOR THE GRADE CAMPER WILL BE ENTERING FALL OF 2022.
Early bird discounts are applied automatically on the online registration.
DEEPER LIFE
Jeremiah Howze & Kingston Arthur
DATES: JULY 31-AUG 5

$50 discount through 6/1

Free t-shirt

$20 canteen credit

option to play paintball

Member Cost: $275

Non-Member Cost: $300

50% FULL
JUNIOR HIGH 1
Jeremy Keeler & Brandon Hammond
DATES: JUNE 26-JULY 1

Discount through 4/1

Free t-shirt

$20 canteen credit

option to play paintball

Member Cost: $275

Non-Member Cost: $300

100% FULL

Waitlist Available
JUNIOR HIGH 2
Ben Harris & Steve Wolf
DATES: JULY 17-22

$50 discount through 5/2

Free t-shirt

$20 canteen credit

option to play paintball

Member Cost: $275

Non-Member Cost: $300

100% FULL

Waitlist Available
JUNIOR HIGH 3
Matt Porritt & Justin O'Dell
DATES: JULY 25-29

for Harvester

and Forum students

$50 discount through 5/2

Free t-shirt

$20 canteen credit

option to play paintball

Member Cost: $275

85% FULL
CAMP 45-1
Rachel Borcherding
DATES: JUNE 15-18

$40 discount through 4/1

Free t-shirt

$12 canteen credit

Member Cost: $210

Non-Member Cost: $235

79% FULL
DATES: JUNE 22-25

$40 discount through 4/1

Free t-shirt

$12 canteen credit

Member Cost: $210

Non-Member Cost: $235

69% FULL
DATES: JUNE 19-21

$25 discount through 4/1

Free t-shirt

$6 canteen credit

Member Cost: $135

Non-Member Cost: $150

61% FULL 
DATES: JULY 29-30

Camper + Parent

$25 discount through 6/1

Free t-shirt

$4 canteen credit

Member Cost: $125

Non-Member Cost: $135

24% FULL
FIRST CHANCE
Manda Miller & Connor Davidson
DATES: JULY 8-9

Camper + Parent

$25 discount through 5/2

Free t-shirt

$4 canteen credit

Member Cost: $125

Non-Member Cost: $135

100% FULL*

Waitlist Available

*See Registration Page

For Details
DATES: JULY 16

Camper + Parent

$15 discount through 5/2

Free t-shirt

$2 canteen credit

Member Cost: $90

Non-Member Cost: $115

19% FULL
DATES: JULY 10-12

No Early Discount

Free t-shirt

$6 canteen credit

Member Cost: $120

Non-Member Cost: $135

75% FULL
GIRL VS WILD
Casey Reicha
DATES: JULY 21-23

No Early Discount

Free t-shirt

$6 canteen credit

Member Cost: $120

Non-Member Cost: $135

17% FULL
FATHER/SON WILD
Shaun Ratcliff
DATES: JULY 15-16

Campers attend with Dad

No Early Discount

Free t-shirt

$4 canteen credit

Member Cost: $80

Non-Member Cost: $90

100% FULL

Tent Camping Option

& Waitlist Available
MOTHER/DAUGHTER
Laura Diebel
DATES: JULY 8-9

Campers attend with Mom

20% discount through 5/2

Free t-shirt

$4 canteen credit

Member Cost: $125

Non-Member Cost: $135

100% FULL

Waitlist Available