Unfortunately, due to COVID-19, we have canceled Family Camp & Open House for 2020.  
Family Camp is an opportunity to bring the whole family and enjoy camp together! We invite you to come and experience all the things you love about camp—campfire, the pool, the lake, being outdoors, worship, and more—with your family! This would be especially good for first-time campers to see what camp is like before coming on their own.
Friday, May 29th
4:00 pm Check-In/Free Time
Pool & Lake Open
6:00 pm Dinner
7:00 pm Main Session
8:00 pm Pool Party & S'mores
9:30 pm Head to Bed
10:00 pm Lights Out
Saturday, May 30th
8:00 am Breakfast
9:00 am Main Session 
10:00 am Breakout Session
11:30 am Free Time
12:00 pm Lunch
1:00 pm Nap/Quiet Time/Family Devotions
2:00 pm Camp Activities Open
3:00-4:00 pm Canteen Open
5:00 pm Dinner – All Activities Closed
6:00 pm Main Session
7:00 pm Depart for Home
For information on what to bring, click here.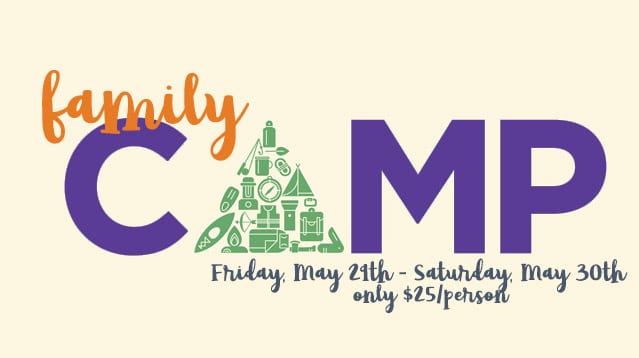 FREQUENTLY ASKED QUESTIONS
Click on any of the questions below to open the answer.
How does housing work?
You will be housed together as a family if possible, but because of limited "family style" housing on the campus, your family may be split into genders.  However, the only time you'll be in the dorms/cabins is to change clothes and sleep, so this should not be major concern.  (If this is a deal-breaker for your family, please contact Lori at office@highhillcamp.org or call 636-585-2262 so that we can discuss housing options.)  Housing in our cabins, dorms, and rooms will be assigned based on the order in which registrations are received and family size. You are also welcome to tent camp or bring an RV.  Additionally, there are a few hotels in the area if you wish to stay the night there.  If you stay off campus, your registration fee will be reduced to $20/person. 
How much does Family Camp cost?
Family Camp is $25/person up to four people – after that it is $10/person.  Children under 2 are free.  If you only attend Friday, it's $10; Saturday only is $15.  If you choose to register for the full weekend but bring your own RV, tent, or stay in an area hotel, registrations are $20/person.
What activities are open?
We will have all of our outdoor activities available for you to enjoy.  Outdoor activities include: Basketball, Gaga Ball, Tetherball, 9 Square in the Air, Sand Volleyball, Carpet Ball, Disc Golf, and a Nature Trail Hike.  Additionally we will have the pool and lake available.  At the lake you can enjoy the Blob, Zip Line, Kayaks/Paddleboats, Giant Slide, Fishing (we have some poles, but feel free to bring your own).  We provide lifejackets for everyone using the lake.  Our pool has a deep and shallow end, but our shallow end is almost 4 feet deep, so you're encouraged to bring wings or floaties for younger campers as we have a limited number of smaller lifejackets.  
What kind of food do you serve?
We try to keep our Family Camp menu kid friendly.  We typically have things like hamburgers/hot dogs, chicken strips, corndogs, etc.  If you have a picky eater, feel free to bring snacks or replacement food for them.  We have a refrigerator and a microwave in the dining hall for your use if you need it.
High Hill Christian Camp & Retreat Center
Address
20 Camp Lane
High Hill, MO 63350